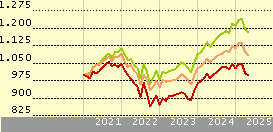 Fond
3,3
-1,1
12,4
4,0
4,7
+/-Kat
-2,9
6,9
0,0
3,4
-4,6
+/-Indeks
-2,5
3,3
-3,6
2,0
-6,5
 
Kategoribenchmark: Morningstar EU Mod Tgt Allo...
Oversigt
Seneste NAV
27-01-2022
 
EUR 43,66
Kursændring 1 dag
 
0,39%
ÅOP
-
 
-
Indirekte omk.
-
 
-
Morningstar Kategori™
 
Balanceret - EUR Moderat Risiko
ISIN
 
LU0504302356
Markedsværdi i alt (mio.)
26-01-2022
 
EUR 763,64
Seneste TNA(mio.)
26-01-2022
 
EUR 354,59
Emissionstillæg
 
5,00%
Løbende omkostning
09-03-2021
 
1,35%
Investeringsstrategi
 
Aktiv
Investeringsmålsætning: Triodos SICAV I - Triodos Impact Mixed Fund-Neutral EUR R Capitalisation
The Sub-Fund primarily invests in shares of large cap companies that are listed on the worldwide markets, and in Euro-denominated Corporate Bonds, Impact Bonds, Sovereign Bonds and Sub Sovereign Bonds which comply with the sustainable investment strategy described in the general part of the Prospectus, in the section "Sustainability assessment", and offer good investment prospects. These investments will have the same characteristics as the investments described in the investment policy of Triodos Global Equities Impact Fund and Triodos Euro Bond Impact Fund. The Sub-Fund may also invest in units or shares of UCITS and/or UCIs which offer the possibility to enhance the sustainable profile of the Sub-Fund. Investments in units or shares of UCITS and/or UCIs may be allowed up to a maximum of 10% of the Sub-Fund's Net Assets. The selected UCITS and/or UCIs shall provide for sufficient liquidity.
Returns
| | |
| --- | --- |
| Løbende afkast | 27-01-2022 |
| År til dato | -2,78 |
| 3-år ann. | 5,28 |
| 5-år ann. | 4,00 |
| 10-år ann. | 5,26 |
| | | |
| --- | --- | --- |
| 12 mdrs. udbytte i pct. |   | 0,00 |
Management
Manager navn
Startdato
Rob van Boeijen
01-01-2021
Startdato
06-10-2010
Kategoribenchmark
Fondens indeks
Morningstar indeks
20% iBoxx Euro Sovereigns Eurozone NR ,  30% iBoxx Euro Non-sov Eurozone NR EUR ,  50% MSCI World NR EUR
Morningstar EU Mod Tgt Alloc NR EUR
Target Market
Role In Portfolio
Standalone / Core
Ikke specifik
Component
Ikke specifik
Andet
Ikke specifik
Primary Objective
Bevarelse
Ja
Vækst
Ja
Indkomst
Ikke specifik
Hedging
Nej
Andet
Ja
Formuefordeling  Triodos SICAV I - Triodos Impact Mixed Fund-Neutral EUR R Capitalisation
30-11-2021
Morningstar stylebox®
Aktiestil
Morningstar stylebox®
Obligationsstil

Aktivfordeling
 
% Lang
% Kort
% Netto
Aktier
48,14
0,00
48,14
Obligationer
51,59
0,00
51,59
Kontant o. lign.
0,27
0,00
0,27
Andet
0,00
0,00
0,00
Obligationer
Effektiv løbetid
-
Effektiv varighed
-

| | |
| --- | --- |
| Top 5 regioner | % |
| Japan | 26,76 |
| USA | 22,07 |
| Eurolande | 21,91 |
| Europa - ex Euro-lande | 16,95 |
| Asien - Udviklede lande | 5,92 |
Top 5 sektorer
%
Cyklisk forbrug
18,85
Healthcare
18,50
Teknologi
17,90
Kommunikationsservice
13,45
Forbrugsvarer
12,59