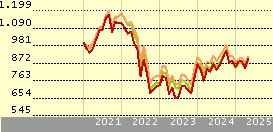 Fond
-3,9
27,1
-8,1
12,3
-38,7
+/-Kat
3,2
-0,6
2,0
-5,4
-1,7
+/-Indeks
3,5
-2,7
2,2
-5,9
0,6
 
Kategoribenchmark: FTSE EPRA Nareit Developed ...
Oversigt
Closing Price
06-10-2022
 
EUR 41,82
Kursændring 1 dag
 
1,10%
ÅOP
-
 
-
Indirekte omk.
-
 
-
Morningstar Kategori™
 
Ejendomme Indirekte - Europa
Omsætning
 
116
Børs
 
DEUTSCHER KASSENVEREIN AG GRUPPE DEUTSCHE BOERSE
ISIN
 
IE00BP8FKB21
Markedsværdi i alt (mio.)
04-10-2022
 
EUR 16,19
Seneste TNA(mio.)
04-10-2022
 
EUR 16,19
Løbende omkostning
29-03-2021
 
0,33%
Investeringsstrategi
 
Passiv
Investeringsmålsætning: Xtrackers FTSE Developed Europe ex UK Real Estate UCITS ETF 1C (EUR) | XREA
The aim is for the investment to reflect the performance of the FTSE EPRA/NAREIT Developed Europe Ex UK Capped Net Index which is designed to reflect the performance of the shares of certain property companies (including real estate investment trusts) listed in European developed countries, excluding the United Kingdom. The weighting of a company on the Index depends on its size, based on the combined value of a company's shares compared to other companies. The Index is calculated on a total return net basis which means that all dividends and distributions are reinvested in the Index after tax. The Fund will attempt to replicate or track the Index, before fees and expenses, by buying all, or a substantial number, of the shares in the Index in the same proportion as the Index as determined by the Sub-Portfolio Manager of the Fund which is Deutsche Asset Management (UK) Limited. The Fund may employ techniques and instruments in order to manage risk, reduce costs and improve results.
Returns
| | |
| --- | --- |
| Løbende afkast | 06-10-2022 |
| År til dato | -40,16 |
| 3-år ann. | -12,76 |
| 5-år ann. | -4,42 |
| 10-år ann. | - |
| | | |
| --- | --- | --- |
| 12 mdrs. udbytte i pct. |   | 0,00 |
Management
Manager navn
Startdato
Ikke oplyst af foreningen
27-08-2014
Startdato
27-08-2014
Kategoribenchmark
Fondens indeks
Morningstar indeks
FTSE EPRA Nareit Dv Eur ex UK Cap NR EUR
FTSE EPRA Nareit Developed Europe TR EUR
Target Market
Role In Portfolio
Standalone / Core
Ikke specifik
Component
Ikke specifik
Andet
Ikke specifik
Primary Objective
Bevarelse
Ikke specifik
Vækst
Ja
Indkomst
Ikke specifik
Hedging
Ikke specifik
Andet
Ikke specifik
Formuefordeling  Xtrackers FTSE Developed Europe ex UK Real Estate UCITS ETF 1C (EUR) | XREA
05-10-2022
Morningstar stylebox®
Aktiestil
Aktivfordeling
 
% Lang
% Kort
% Netto
Aktier
99,80
0,00
99,80
Obligationer
0,00
0,00
0,00
Kontant o. lign.
0,00
0,00
0,00
Andet
0,20
0,00
0,20
| | |
| --- | --- |
| Top 5 regioner | % |
| Eurolande | 63,82 |
| Europa - ex Euro-lande | 36,18 |
| USA | 0,00 |
| Canada | 0,00 |
| Latinamerika | 0,00 |
Top 5 sektorer
%
Ejendomme
99,08
Cyklisk forbrug
0,92