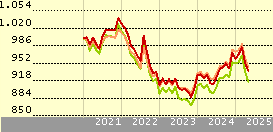 Fond
3,3
9,4
-0,9
2,8
-5,9
+/-Kat
1,6
1,4
-0,4
1,4
-1,9
+/-Indeks
-0,7
0,5
-0,7
0,4
-1,5
 
Kategoribenchmark: Bloomberg Global Aggregate ...
Oversigt
Closing Price
27-05-2022
 
EUR 39,57
Kursændring 1 dag
 
0,32%
ÅOP
-
 
-
Indirekte omk.
-
 
-
Morningstar Kategori™
 
Obligationer - Globale
Omsætning
 
11726
Børs
 
DEUTSCHER KASSENVEREIN AG GRUPPE DEUTSCHE BOERSE
ISIN
 
LU0942970103
Markedsværdi i alt (mio.)
25-05-2022
 
USD 591,73
Seneste TNA(mio.)
25-05-2022
 
USD 216,40
Løbende omkostning
24-03-2022
 
0,10%
Investeringsstrategi
 
Passiv
Investeringsmålsætning: Xtrackers II ESG Global Aggregate Bond ETF 1D (EUR) | XBAG
The aim is for your investment to reflect the performance of the Bloomberg Global Aggregate Bond Index (the "Reference Index"). The Reference Index reflects the performance of a broad-based measure of the global investment grade fixed-rate debt markets. The Investment Objective of each of the Share Classes of the Sub-Fund is to track the performance of the Reference Index, or of a currency hedged index (each a "Currency Index" and together the "Currency Indices") linked to the Reference Index and hedged, where applicable, into the relevant currency as referred to under "Description of Share Classes" for each Share Class and which is published by the Index Administrator.
Returns
| | |
| --- | --- |
| Løbende afkast | 27-05-2022 |
| År til dato | -6,25 |
| 3-år ann. | -0,28 |
| 5-år ann. | 0,69 |
| 10-år ann. | - |
| | | |
| --- | --- | --- |
| 12 mdrs. udbytte i pct. |   | - |
| Udbyttefrekvens |   | Årligt |
Management
Manager navn
Startdato
Ikke oplyst af foreningen
06-03-2014
Startdato
06-03-2014
Kategoribenchmark
Fondens indeks
Morningstar indeks
Bloomberg Global Aggregate TR USD
Bloomberg Global Aggregate TR USD
Target Market
Role In Portfolio
Standalone / Core
Ikke specifik
Component
Ikke specifik
Andet
Ikke specifik
Primary Objective
Bevarelse
Ikke specifik
Vækst
Ja
Indkomst
Ikke specifik
Hedging
Ikke specifik
Andet
Ikke specifik
Formuefordeling  Xtrackers II ESG Global Aggregate Bond ETF 1D (EUR) | XBAG
31-03-2022
Obligationer
Effektiv løbetid
-
Effektiv varighed
-
Morningstar stylebox®
Obligationsstil
Aktivfordeling
 
% Lang
% Kort
% Netto
Aktier
0,00
0,00
0,00
Obligationer
0,00
0,00
0,00
Kontant o. lign.
0,00
0,00
0,00
Andet
100,00
0,00
100,00