Vanguard S&P 500 UCITS ETF | VUSD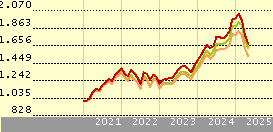 Fond
12,2
14,3
7,0
-0,5
26,1
+/-Kat
2,4
1,9
1,3
1,7
1,8
+/-Indeks
-0,5
-0,7
0,0
-0,8
-0,4
 
Kategoribenchmark: Russell 1000 TR USD
Oversigt
Closing Price
11-10-2019
 
USD 56,80
Kursændring 1 dag
 
1,41%
ÅOP
-
 
-
Indirekte omk.
-
 
-
Morningstar Kategori™
 
Aktier - USA Large Cap Blend
Omsætning
 
163750
Børs
 
LONDON STOCK EXCHANGE, THE
ISIN
 
IE00B3XXRP09
Markedsværdi i alt (mio.)
11-10-2019
 
USD 23329,80
Seneste TNA(mio.)
11-10-2019
 
USD 23316,90
Løbende omkostning
18-02-2019
 
0,07%
Investeringsstrategi
 
Passiv
Vanguard S&P 500 ETF is one of the best options in its Morningstar Category. This exchange-traded fund offers broad and diversified exposure to U.S. large-cap stocks by tracking the S&P 500, the most renowned proxy for the U.S. equity market....
Klik her for analytikerens rapport
Investeringsmålsætning: Vanguard S&P 500 UCITS ETF | VUSD
This Fund seeks to track the performance of the Standard & Poor's 500 ("S&P 500") Index, a widely recognised benchmark of U.S. stock market performance that is comprised of the stocks of large U.S. companies. The Fund employs a "passive management" – or indexing – investment approach, through physical acquisition of securities, designed to track the performance of the Index, a free float adjusted market capitalisation weighted index. In tracking the performance of the Index, the Fund attempts to replicate the Index by investing all, or substantially all, of its assets in the stocks that make up the Index, holding each stock in approximately the same proportion as its weighting in the Index. The Index is a capitalisation weighted index of 500 U.S. stocks.
Returns
| | |
| --- | --- |
| Løbende afkast | 11-10-2019 |
| År til dato | 25,29 |
| 3-år ann. | 13,86 |
| 5-år ann. | 14,23 |
| 10-år ann. | - |
| | | |
| --- | --- | --- |
| 12 mdrs. udbytte i pct. |   | 1,60 |
| Udbyttefrekvens |   | Kvartalsvis |
Management
Manager navn
Startdato
Ikke oplyst af foreningen
22-05-2012
Startdato
22-05-2012
Kategoribenchmark
Fondens indeks
Morningstar indeks
S&P 500 NR USD
Russell 1000 TR USD
Target Market
Role In Portfolio
Standalone / Core
Ikke specifik
Component
Ikke specifik
Andet
Ikke specifik
Primary Objective
Bevarelse
Nej
Vækst
Ja
Indkomst
Ja
Hedging
Ikke specifik
Andet
Ikke specifik
Formuefordeling  Vanguard S&P 500 UCITS ETF | VUSD
31-08-2019
Morningstar stylebox®
Aktiestil
Aktivfordeling
 
% Lang
% Kort
% Netto
Aktier
100,00
0,00
100,00
Obligationer
0,00
0,00
0,00
Kontant o. lign.
0,00
0,00
0,00
Andet
0,00
0,00
0,00
| | |
| --- | --- |
| Top 5 regioner | % |
| USA | 99,03 |
| Storbritannien | 0,54 |
| Europa - ex Euro-lande | 0,33 |
| Asien - Udviklede lande | 0,05 |
| Europa - Nye markeder | 0,04 |
Top 5 sektorer
%
Teknologi
23,48
Finans
15,69
Healthcare
13,80
Cyklisk forbrug
11,91
Industri
10,18